Commercial Roofing Fort Worth Texas
We are located at 6012 Reef Point Ln, Fort Worth, TX 76135. TaylorMade Custom Roofing Company services Fort Worth, North Richland Hills, Keller, Southlake, Haltom City, Grapevine, Bedford, Euless, Hurst, Arlington, Dallas and more. Give us a call today at (817) 236-1620 for a professional and free inspection. No Obligation. No Pressure.
TaylorMade Custom Roofing specializes in all types of commercial roofing systems and can offer a complete and comprehensive solution for all your roof management requirements including maintenance, repair, and replacement.
Roof Evaluations / Consulting
Solve roofing problems within your budget
Establish budget for future repair or replacement
Written evaluation, including pictures and documentation
Core sampling
Recommendation for repair or replacement
Roof Renovations/ Roof Replacements
Determine if the existing roof is a candidate for a repair, or replacement
Help establish budget/determine life expectancy of the existing roof system
Provide written scope of work and discuss options with our customers
Preventative Maintenance
The life of any roof system can be extended for many years with proper maintenance. TaylorMade Custom Roofing can provide in depth roof evaluations to determine the current condition of your roof system. Immediately addressing existing problems and scheduling periodic inspections to minimize costly repairs and optimize the roof's lifespan.
"It is our commitment to quality that sets TaylorMade Custom Roofing apart from the crowd. Our number one goal is to exceed your expectations as your commercial roofing contractor!"
Flat or Low Slope Roofing Types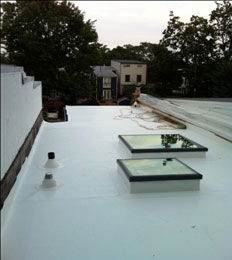 THERMOPLASTIC (PVC and TPO)
Lightweight, reinforced, highly reflective, light colored membrane used for roofing since the early 1970s. Highly resistant to chemical atmospheres, ozone, ultraviolet light, tears and extreme weather conditions. Exhibits excellent fire resistance and seam strength due to heat welding.
EPDM
Lightweight, synthetic elastomer material used for roofing since the early 1970s. Resilient, tensile strength, elongation, resistant to ozone, ultraviolet light and ponding water. Available in fleece back, which can be installed in hot asphalt or low rise adhesive.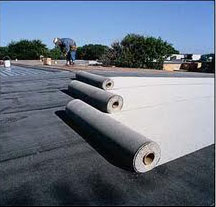 MODIFIED BITUMEN
Used for roofing since 1975. Composed of either asphalt reinforced with polyester or fiberglass and, in some cases, with factory-applied surfacing. Typically, material is installed in multiple layers using hot bitumen, torch-applied or cold adhesive. It is resistant to heavy traffic, puncture and tears.
Metal Roofs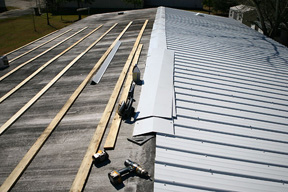 Architectural and structural metal panel roof systems utilizing galvanized steel or aluminum. Custom panel sizes, profiles, colors and finished coatings are available for commercial application. Offers long-term weather-ability, low maintenance and aesthetic value.
BUILT UP ROOFING (BUR)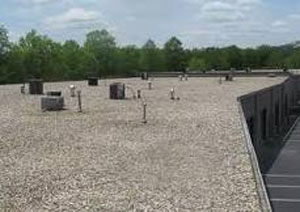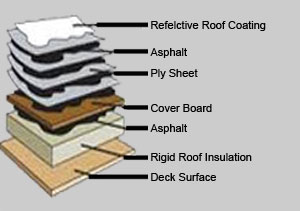 Multiple layers of felts, fabrics or mats saturated with bitumen installed rooftop in alternating solid moppings of hot bitumen (asphalt or coal tar) or cold adhesives. Can be surfaced with gravel, mineral cap sheets or smooth weather resistant coatings. Multiple layer construction is ideal for resisting mechanical damage